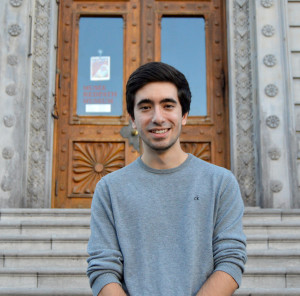 Dylan Lamberti
Editor in Chief, Online
Dylan is a U3 student at McGill University, pursuing a double major in English Literature and International Development. He has been writing for MIR since last year, and has a long history of writing both for student publications and as a freelance copywriter. He is deeply interested in North American politics, primarily US foreign policy and the implications that it has on the rest of the world. Dylan is extremely excited to be leading MIR's online division forward in the coming year.
 Miro Guzzini
Editor in Chief, Print
Miro Guzzini is in his fourth year at McGill University, currently completing his Joint Honours B.A. in History and Philosophy. His main research interests consist in modern European and Middle Eastern history as well as continental philosophy. After spending a summer working as an intern in Cairo for Ahram Online, Miro decided to get involved in student journalism as an editor for the MIR. Although a history and philosophy student, international relations have thus somehow managed to carve themselves an important place in his life. Miro fully appreciates the value of learning and aspires to pursue his passion for knowledge.